Workshops

Our hearts' goal with The Death Monologues is to take it out into the world to the people and places that would appreciate its profound message, places such as theaters, hospice homes, cancer centers, hospitals, schools and prisons.

Along with the performance, there is also the option of following up with, not necessarily a 'workshop', but more of an open conversation. This will be facilitated by Giselle Suarez and can include sharing personal stories, teaching/ counseling, ceremony and ritual, honoring those who have had their dance with death.

The purpose of these 'workshops' is to understand and experience how to not be afraid, to be real and to be present with death, how to incorporate death back into life. Death doesn't deny life. Death can be a gift to life. It is through learning and accepting Death that we can unlearn how to be a slave to it and become whole again. We can live our lives fully, freely and peacefully. We can incorporate the grief and feel the harmony and balance in doing so. And when it is our turn to face our Death, we can do it our way, gracefully and with confidence.

Each 'workshop' can be customized according to the needs and desires of the audience, group and/or organization.




Death Doula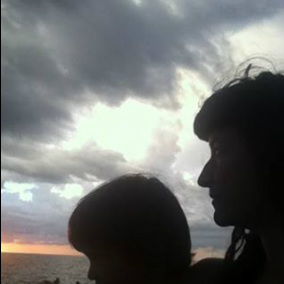 Our whole lives we are taught how to live, by parents, teachers, culture, society, religion, etc. But when it comes to death, well, it is like being dropped into the ocean without having a clue about swimming. We live in a society that fears, denies, and tries to hide death. Growing up in such a society, results in having our death woven out of the fabric of our lives, leaving us less than whole. This is why it can shatter our world when it shows up, and it always shows up. We have made death the enemy and death cannot be the enemy. Death is part of us. It is our final destiny.
A Death Doula
helps and supports you through this phenomenal phase of life. A Death Doula can be there for you no matter who you are, no matter what the circumstances are, for as long as you need this support. Whether undergoing your own death and dying process, or the dying process of a loved one, or coming to peace with some else's death, a Death doula can be there to help and support you.
A Death Doula can also teach us to not be afraid, how to be real and how to be present with death, how to incorporate death back into life. Death doesn't deny life. Death can be the gift of life. It is through learning and accepting Death that we can unlearn how to be a slave to it and become whole again. We can live our lives fully, freely and peacefully. And when it is our turn to face our Death, we can do it our way, which ever way that may be...
Here is a great article on Death Doulas:
Death doulas: helping people face up to dying
---
TESTIMONIALS

Giselle helped me through one of the most difficult times in my life. I am grateful for her love, guidance and support through my father's dying process. She was there for me and transformed this exeprience for me into one of peace and understanding. It was truly a gift.
Ron~Los Angeles, CA

I was very apprehensive about calling a "death doula" but Giselle came very highly referred. To work with her was probably one of the best choices I have made in my life. I can't even imagine having to go through that without her. Dorotea~Stockholm, Sweden

I'm forever grateful to Giselle for helping me overcome my fears and anxiety about death. My own and also the death of the ones I love most. I have been able to enjoy and participate fully in the process of my child being born without the paralyzing fear that I felt before. I feel as though this calmness has actually made me a better husband. Marshall~ Sedona, AZ

If you would like to contact Giselle about her workshops or Death Doula services, please fill out the form below and she will contact you as soon as possible.